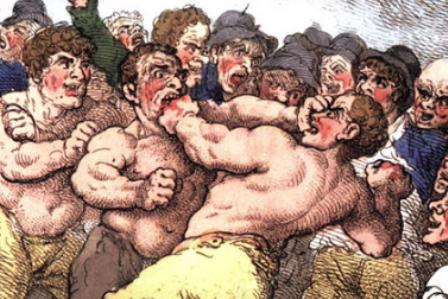 FIGHT HARD, FIGHT LONG, WIN!
Beer, Cigarettes, Pot, Cocaine and Porn!
The following is a letter (email) I wrote to a despondent person who was struggling with the most common addictions of today.  While most men won't admit it, there is an alarming percentage of professing Christians out there that do "all of the above" and either 1) assume they are "saved" or 2) worry that they might not be "saved" and are fearing HELL and need help.
Time appears to be extremely short.  You are dealing with both demonic attack, and earthy habits and behaviors that are "addictions".  You can break the cycle, but it takes more than a mediocre determination.  You have to do two things.
1. Fight an earthy battle against your own behaviors
2. Fight a spiritual battle to get the demonic off your back
THIS REQUIRES DETERMINATION
THIS REQUIRES PERSERVERANCE
Advice to Robert
The following is the email sent to Robert to help him "get it together".  He was noticably upset and was pleading for prayer.
Robert,

A number of years ago I was watching porn morning and night on my computer, doing coke with my wife to the tune of $1300 a month until she ended up being baker-acted, I drank, I smoked and to this day I still wrestle with smoking now and then.  This is a battle.  It's MEANT to be a battle.

But there's a catch …

We are actually expected to WANT Heaven and the Kingdom of God SO MUCH that we are willing to FIGHT to change ourselves.  It's a combination of fighting the cigarettes, beer, and porn (etc.) and praying, and having people pray for you.  Believe YOU ME it is not a "miracle" that's going to happen.  You aren't going to wake up one morning and suddenly hate beer, porn, smoking, and drugs.  I guarantee that's not going to happen.

It is a fight.  A serious blistering real time fight.  And the fight becomes EVEN HARDER when you are "in tune" with what's going on in the world, because that creates "stress".  Stress = Escape.

When you feel "guilty" in your heart, its' because your "spirit" is crying out in pain.  Your spirit is separated from your mind ( / soul) and your body.  You spirit doesn't want to suffer, so it is crying.  This creates guilt.  Guilt creates more stress, then demons "whisper in your thoughts" and the cycle continues.

Here is something that might help.

Have you ever quit smoking to get healthy in the past?   If you have ever gone on any type of a "get healthy" kick in the past, it includes making really huge changes to your life.  It is like creating this "shock and awe" spectacle in every part of your daily routine.  It helps me.  But it only works if you are determined and JUST DO IT!

Here what I did and have done in the past.

Go to Walgreens and get the 21 mg Nicoderm Patch (The Clear Ones).  They are the best ones because they stick really well transferring a lot better.  Get the 14 patch box.  Put one on BEFORE you go to bed.  Take a shower, and then change the patch immediate after you dry off.  From that point forward, change the patch every day after  you shower.

Immediately start "working out".  Set your alarm early for the "shock and awe" effect.  If you have degraded hugely, then you might need to buy a Big Ben Alarm at Walgreens, set it for 5AM, and put it down the hallway from your bed, forcing you to GET UP!!!!  Make yourself do a MINIMUM of a 30 minute work out.  I don't care if you just walk really fast down the road for 30 minutes but JUST DO IT!  SWEAT. SWEAT.  You must SWEAT.  If you don't sweat and breath hard, then you wont' flush out the toxins in your blood.  There are tons of poisons in your blood that have to be cleaned out.  Your body (and mind) NEEDS to be SHOCKED.

Hydrogen Peroxide Therapy … http://educate-yourself.org/cancer/benefitsofhydrogenperozide17jul03.shtml.  Read this article.  I am doing it now.  If you decide to try it, (pray about it and do your own research) you have to order "food grade" Hydrogen Peroxide and get a eye dropper bottle.  IT WORKS LIKE CRAZY.  I do it all the time and I'm doing it right now.  Hydrogen Peroxide has an extra molecule of oxygen that attacks "impurities" in your blood.  It even can cure some cancers.  You don't have to do this, and I'm certainly NOT giving you "medical advice" by any means, but for me, it helps detox when I am on a "health kick".PLEASE NOTE:
A recently published an extensive article about 64 Wonderful Hydrogen Peroxide Uses and Benefits can be found here.

Here's the link – https://www.tipsbulletin.com/hydrogen-peroxide/

You have to change your daily routine.  This is HUGE.  Now its time to be creative.  Instead of going to the bar after work, you will need to find something else to do.  You can't quit smoking if you keep drinking beer.  While I am not really big on some churches, if you can find a Pentecostal church, this can take up your Sundays (morning and night) and Wednesdays.  That helps.  Get involved in every church related event possible.  Keep busy.  Commit.  Get a cheap bike at Walmart $99.  Ride bike all over the place.  If you are doing the Hydrogen Peroxide therapy you will have tons of energy that needs burned off.  Join a health club and spend time there.  I mean spend HOURS THERE.  Every night.  Get away from YOUR HOUSE!!

BURN THE PORN.  Delete it.  Delete every singe video and picture … HUNT THEM DOWN do NOT LEAVE ANYTHING on your computer ..  Get yourself a "Net Nanny" like software program to FILTER WEB SITES and REFUSE TO DO IT.  Make the porn filtering sofware password "horribly long and hard to type". GET PISSED OFF.  The porn is a ticket straight to HELL.

The process of "sanctification" requires effort on our part.  So not only do you need prayer to get rid of the demons that are all over you right now, but you also need RESOLVE.  Without the resolve and effort on your part, the demons will always win the battle.  Did you notice that I said ALWAYS???  That's a fact.

Is this a battle you are willing to fight over??

Another thing you can do is find a Pentecostal Church (or Assembly of God) on a Wednesday night (a small church), find the pastor before service, (or after), and tell him you need DELIVERANCE.  Have him and the elders cast out your demons.

This is a big war brother.  A fight of the "seen" and the "unseen".

You can win this.
ADVICE TO DAVID:
David's Letter:

Hello John,

I hope all is well? I just wanted to touch base with you as I have hit a point in my walk that finds me falling over and over again.

I keep suspecting some sort of deep rooted fear, rejection or whatever. It has plagued me all my life and even after becoming a Christian. It is getting worse now as I experience horrible mood swings and self-medicate with alcohol.

I am pretty much at a stand still with this and wondered if you could point me in the right direction.

Many thanks,

David
My Response:
Well I wish I could tell you its easy but that's not true brother. Once you have slipped down to where you are you have to REALLY want to win this battle. Even if you didn't see this as a spiritual problem and only as a plain old "drinking depression" problem, it would still be a tough fight. I know SO many people, including myself, that have had to climb out of that pit from Hell.
You are not only depressed but you are oppressed by demons that will not let you go unless you fight the crap out of them with both fists pounding furiously and a determination that is second to none. Once you realize what you are up against it helps because you can change your tactics and increase your odds of success.
But
If you are not exceedingly determined to fight the good fight, then you are going to get your butt whooped by the demons over and over again. They will convince you that you are not worthy of salvation and that Jesus has abandoned you which is a filthy life from Hell. The problem is that the rules of the Kingdom REQUIRE us to participate in the fight for our salvation. Jesus commanded us to fight against the devil, cast out demons, praise praise praise, seek ye first the Kingdom and His righteousness, etc etc. So we have to WANT freedom from darkness and WANT the Blood of Jesus to cleanse our souls. When we truly WANT it we become motivated disciples (disciplined) and we make the changes necessary to fight back and win.
I wont tell you its easy but I will tell you that I did it and it took some time. What motivated me was when I realized that if I didn't get my crap together and stop sinning that I would be left behind for the Great Tribulation. That scared me half to death. Fear is a GREAT motivator. And I KNEW IT and it scrared me really bad. I quit cocaine, pot, heavy alcohol, porn, and cigarettes and it took time, prayer, and LOTS OF PRAISE and life changes.
Here are links to two (2) radio shows and one article that will help you if you are serious. I do recommend you make major life style changes too and find yourself a whole new group of friends and join a Pentecostal church in your area ASAP. Do not miss ONE service ever. Make those people your best friends and support group. It helps a lot believe me.
God bless you brother I am adding you to my personal prayer list
Keep in touch
YOU CAN DO IT
GOD BLESS YOU
Demons and Spiritual Warfare Basics
Advice to a Port Addict
How to Pray and the Power of Praise