CASTING LOTS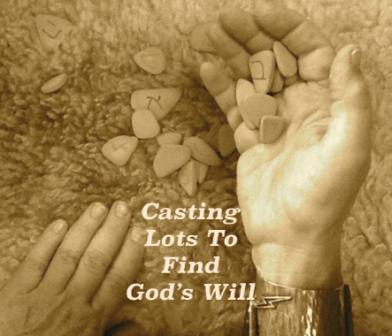 When you study the casting of lots in the Holy Bible, you learn that those who followed God would cast lots to hear from the Lord.
Prov 16:33
The lot is cast into the lap,
But its every decision is from the Lord. 
NKJV
Acts 1:26
 And they cast their lots, and the lot fell on Matthias. And he was numbered with the eleven apostles. 
NKJV
So whether it be done with stones, or sticks, or whatever, God (if you are prayed up and your request is being heard by the Lord, without hindrances), answers us through casting of lots.  You can also drop open a Bible as a form of casting lots and God can answer us through verses that He shows us.  You can also use a hard cover thesaurus; but if you do, you would need one that only displays 4-6 (or so) words when it is opened on the desk so you can tell which word the Lord wants you to see.  A Roget's International Thesuarus hardcover with a loosened binding (so it flops open easily  on your table) is a good one.  If you can find the Fifth Edition used from 1992 or thereabouts, it is ideal.
It's also a good idea to take pictures (photos) of the answers that you get, and mark them so.  This allows you to "review" things and remind yourself of God's awesome answers.
I also recommend you rebuke the demons and devils in Jesus name prior to doing this. The Bible says "rebuke the devil and he will flee from you".  This will give you greater faith that God and his angels were in your presence and you were not being tricked.  If you command the devils OUT in Jesus name, they cannot interfere with you.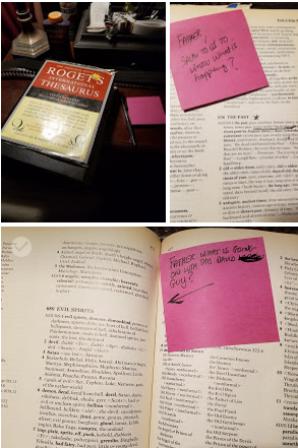 James 1:5-8
5 If any of you lacks wisdom, let him ask of God, who gives to all liberally and without reproach, and it will be given to him. 6 But let him ask in faith, with no doubting, for he who doubts is like a wave of the sea driven and tossed by the wind. 7 For let not that man suppose that he will receive anything from the Lord; 8 he is a double-minded man, unstable in all his ways. 
NKJV
Also:
John 9:31-32
Now we know that God does not hear sinners; but if anyone is a worshiper of God and does His will, He hears him. 
NKJV
So "rules" do apply.
So if you need a "word" from the Lord you ask Him a question after you get "prayed up".
For example:
"Father, please tell me what is wrong with my wife.  She is acting strange to me and I do not understand why.  Can you please tell me what is wrong?"
CAST THE LOT
< GET ANSWER >
Remember, that if the answer you get makes absolutely no sense at all and is completely unrelated to your question, you need to put it away and keep praying about the issue with the Lord.  God was unwilling (at that moment of time) to give you the answer, or it is possible you are having "faith" issues (doubts) that are hindering the answers.  Just be patient and seek the Lord.  Draw closer to Him every day.  If you have any sin in your heart at all  you must get rid of it.
The Chambers Thesaurus for Android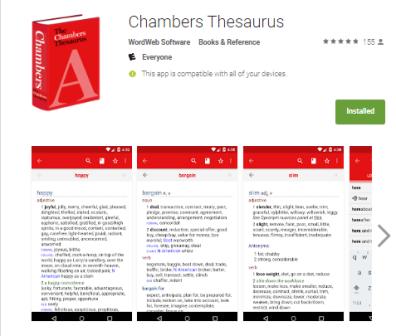 You can also try the Chambers Thesaurus for Android.  I'm not sure if it is available for i-Devices.  It has a "random word" features and costs about $5.00.  To use the random word feature:
Click on the word "Welcome"
Select the Menu icon in the "upper right" corner
Select the "Random" option
Naturally all the prayers and other methods apply to this as well.  Using this method you do not get multiple words to look over. It presents one single word for you. At times I have allowed the Lord to speak to me through the neighboring words to the "left" or "right" (see the arrows at the bottom.  Again if it doesn't answer your question, put it away, and keep praying about it.
GOD BLESS YOU