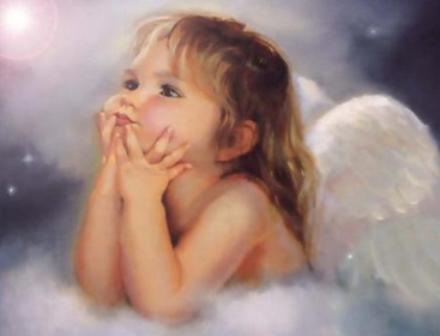 Finishing the Race with Humility
Living in the Presence of God
Imagine a little 5 year old girl, sitting beside you . You have never seen her before. She appears in your room while you are praying.  But you feel peace and amazement by her presence.
She says to you …
"I am a holy one of God.  No evil thoughts are allowed in my mind."

"I am a holy one of God. I believe all things my Father says, because I know He loves me"

"I am a holy one of God. I have no interest in this world, and wish to bring all of you back home with me"

"I am a holy one of God. Everything I think and feel comes from our Father, who is love and purity"

"I am a holy one of God. I know about all the strange evil and alien things of this world, but I only speak of  them to help set the captive and lost free"

"I am a holy one of God. I love our Master Jesus, the Messiah. You won't believe how wonderful He is, wouldn't you like to meet him?"

"I am a holy one of God. Won't you come to my Father's house with me? I will show you wonders you have never imagined"

"I am a holy one of God.  Purify yourself, so I may take you with me to see your new home and meet our Father"
Summary in Jesus Name
Heaven is a Kingdom.   Are you fit for a position of royalty in the Universe?  Are you seeking holiness in every part of your life?  Have you washed your robe white with the blood of the Holy Lamb of God?
Col 3:1-10

3 If then you were raised with Christ, seek those things which are above, where Christ is, sitting at the right hand of God. 2 Set your mind on things above, not on things on the earth. 3 For you died, and your life is hidden with Christ in God. 4 When Christ who is our life appears, then you also will appear with Him in glory.

5 Therefore put to death your members [behaviors and thoughts] which are on the earth: fornication, uncleanness, passion, evil desire, and covetousness, which is idolatry. 6 Because of these things the wrath of God is coming upon the sons of disobedience, 7 in which you yourselves once walked when you lived in them.

8 But now you yourselves are to put off all these: anger, wrath, malice, blasphemy, filthy language out of your mouth. 9 Do not lie to one another, since you have put off the old man with his deeds, 10 and have put on the new man who is renewed in knowledge according to the image of Him who created him

NKJV
Do you want to live in the "valley" of outer darkness, or the part of  Heaven where there is no shadow; in the presence of God the Father?
2 Cor 10:4-5

For the weapons of our warfare are not carnal but mighty in God for pulling down strongholds, 5 casting down arguments and every high thing that exalts itself against the knowledge of God, bringing every thought into captivity to the obedience of Christ

NKJV
Aim as high as you can.  Eternity is a very long time.
Heb 12:14

Pursue peace with all people, and holiness, without which no one will see the Lord

NKJV

 
SEEK HOLINESS
– with all your heart
SEEK FORGIVENESS
– of every sin
SEEK HUMILITY
and
PURIFY YOUR HEART
GIVE ALL YOU HAVE FOR THE KINGDOM OF HEAVEN
PREPARE FOR THE COMING OF JESUS CHRIST
WE ARE LEAVING
WILL YOU MAKE IT?