Mega-Quake Warning March 22-23?
The 188 Day Earthquake Cycle
Is there about to be a massive mega-quake this Thursday or Friday?  It's difficult to say for certain.  However there are a number of troubling indications this may be the case.
The approach of Planet X has taken a back seat lately to the unfortunate noise associated with claims of HAARP attacks and other "stuff".   Planet X is not only a reality, it is spoken of in the Holy Bible and inerrant Word of Jesus Christ the King.  Many believe it is the "Sign of the Son of Man" referred to in Matthew 24:30.  Many more believe it is the Destroyer mentioned in Jeremiah.  I also believe it is the "Horrible Star" referred to in 2 Esdras 15:40.  It's out there.  You can believe it.
Tribulation Now has been reporting on the likelihood of a massive earthquake soon to hit the West Coast of North America, in particular California (among other things).   Many of these reports include a massive tsunami following shortly thereafter.  The prophet Dr. David Owuor recently received a vision from the Lord on this type of event.  AA Allen and David Wilkerson both received similar prophecies / visions of this type of event.  The list is rather large and troubling.
Here are some recent reports that "correlate" with the possibility of a mega-quake, caused by Nibiru (Planet X) occurring this Thursday or Friday; that is IF the 188 Day claimed predictive cycle continues.
The March 22nd, 2012 188 Day Cycle Prediction
Terral and his team of astronomers, who are quite talented I might add, have been tracking Planet X for quite some time.   Yes I know he has made some outlandish claims but that's beside the point.  Here is a You Tube video recently released, warning of the March 22nd prediction.
The GLP "EAT" Prediction – 12:42 PM Today!
A user of the message board, God Like Productions, predicted today at 12:42 PM, an earthquake greater in magnitude than 7.3, would occur IF the 188 Day cycle was accurate.  This "EAT" individual suggested this 7.3+ earthquake would be some type of a pre-quake event.
This prediction turned out to be ACCURATE.
Here is the quote of what this user posted today:
There is going to be a BIG precursor earthquake today IF the 188 days earthquake theory has any merit. Expect an earthquake 7.3+ in magnitude today. Then when it hits… get out of the area cause the BIG MONSTER QUAKE is a day or two later.
Here's a snapshot of that GLP post: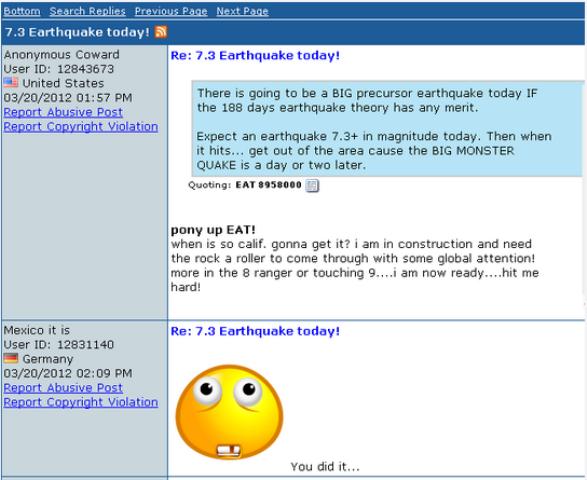 7.4 Earthquake Hits Mexico Today
Today a 7.4 (originally measured at 7.8) earthquake hit the Oaxaca, Mexico area.  Here is a link to the report.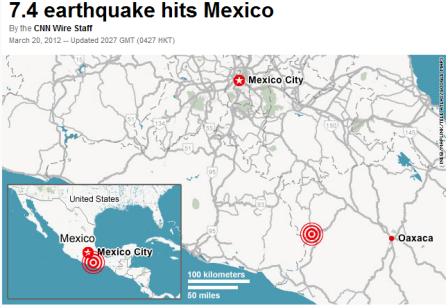 Here is a snippet from the report:
Mexico City (CNN) — A strong earthquake rattled residents in southern Mexican resort towns and the nation's capital Tuesday, but there were no immediate reports of serious damage or injuries.  The U.S. Geological Survey reported the quake had a magnitude of 7.4.  The epicenter was about 15 miles (25 kilometers) east of Ometepec, Guerrero, the USGS said, and its depth was about 12.4 miles (20 km).  More than an hour after the quake, residents of town were feeling aftershocks, said Francisca Villalva Davila, the city's comptroller.
The LPAC Prediction from January 2012
The Lyndon LaRouche research team, known as LPAC released the following warning video back on January 26th of this year.
Uploaded by laroucheyouth on Jan 26, 2012
The current earthquake warning for the California-Mexico border zone counterposes the dangerous presidential leadership vacuum in this election, to the planetary defense initiatives being taken up by Lyndon LaRouche, the Basement Research Team and the Federal Slate of Candidates.
For more info go to www.LaRouchePAC.com
Historic Earthquake Coming to the West
And here below you have a prophetic warning / vision from our Heavenly Father's prophet, Dr. David Owuor from Kenya.
Summary in Jesus Name
I have been writing articles and doing radio shows about Planet X  / Nibiru for quite some time, PRAISE JESUS.    Yes our Heavenly Father DOES use cosmic events for His purposes.  Jesus referred to them as "Signs in the Sun, Moon and Stars".  Indeed God is in control and there is absolutely no guarantee a second 188 day mega-quake event will happen later this week.  Praise Jesus.
BUT IT MIGHT.
I am a Philippians 1:21 guy ….
Philippians 1:21
"To live is Christ, to die is gain"
NKJV
But that's because I know where I am going.   DO YOU?   Are you ready to Stand before the Son of Man, JESUS CHRIST?  Are you assuming you are saved because you "believe" in Jesus?
Matt 7:21-23
21 "Not everyone who says to Me, 'Lord, Lord,' shall enter the kingdom of heaven, but he who does the will of My Father in heaven. 22 Many will say to Me in that day, 'Lord, Lord, have we not prophesied in Your name, cast out demons in Your name, and done many wonders in Your name?' 23 And then I will declare to them, 'I never knew you; depart from Me, you who practice lawlessness (iniquity)!'
NKJV
The King James uses the word "iniquity" which is "pre-meditated sin".  If you know you are living in sin and are not repenting and CHANGING your behavior, you are in danger of eternal Hell fire.   It does not matter if you think you are a Christian or not.
Dan 12:2
2 And many of them that sleep in the dust of the earth shall awake, some to everlasting life, and some to shame and everlasting contempt.
KJV

1 Peter 4:18
"If the righteous one is scarcely saved,
Where will the ungodly and the sinner appear?"
NKJV
REPENT OF ALL YOUR SINS NOW
GIVE YOUR LIFE
to
JESUS CHRIST 
THE GIFT of Salvation IS FREE
TIME IS RUNNING OUT