The Lord Has Spoken
Rapture Readiness All Time High
I truly pray in the name of our King Jesus Christ, that this is one of the last articles I ever publish.  Not because I could ever write enough for our Lord Jesus Christ.  Not because it hasn't been a blessing serving God in whatever capacity I am able, but because GLORY TO THE MOST HIGH GOD, it appears we have FINALLY hit the landmark moment.
For what its worth, I have written over 400 articles since 2009, and together with a wonderful worldwide group of awesome real Christians and super-saints, we have successfully published nearly 200 radio programs many over 2 hours long with a wide range of glorious guests from all over the world.
Archons, Nachash, and Holy Watchers w Zen Garcia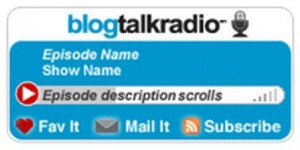 PRAISE JESUS our KING none of this could have happened without our Father's blessings and the supernatural power of Jesus and the Holy Spirit upon every listener, and every contributor, from many countries all across the world.
GOD BLESS YOU ALL
And today is my birthday –
WHAT A HAPPY BIRTHDAY IT HAS TURNED OUT TO BE!
Finally the Word Has Come In
Tribulation-Now has been following a wide range of various people's visions, dreams and prophecies from across the world.  In fact we discuss these frequently on our radio program and even include a prophetic table / timeline of likely events to track,  and correlate the information coming in from the Heavenly Office of God our Father.
Here is the main prophecy timeline table we often discuss.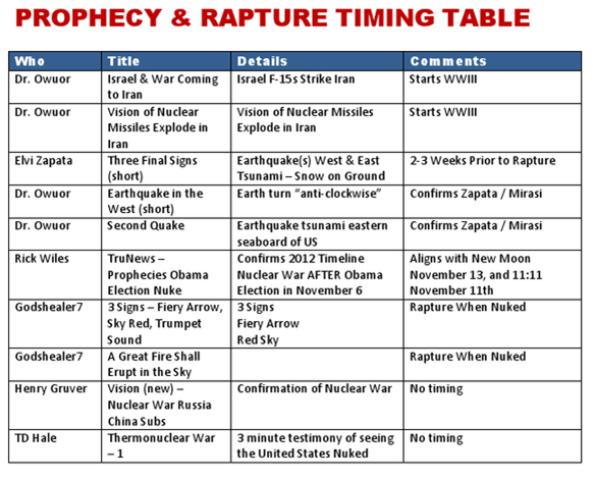 And here are some of the links so you may listen yourselves.
Elvi Zapata – Three Final Signs
http://www.youtube.com/watch?v=HqvPUM05Wq4
Owuor – Historic Earthquake in the West
http://www.youtube.com/watch?v=ZDpRHTTm0Zc
Owuor – Second Earthquake Coming (East Coast USA)
http://www.youtube.com/watch?v=9_utwge9M0Y
Owuor – Nuclear War with Iran
http://www.youtube.com/watch?v=2Disv6iMWec&hd=1
Godshealer7 – Three Signs Before I Come
http://www.youtube.com/watch?v=Xh7T0RHlCeQ&feature=plcp
Godshealer7 – A Great Fire Shall Erupt in the Sky
http://www.youtube.com/watch?v=T7keXCcZ88g&feature=plcp
The Most Wonderful Confirmation
So many ministries do not listen to the prophecies of God's people; let alone pay any attention to the You Tube visions, dreams and other prophets our Father God is speaking through.  This unfortunately occurs, even though we are told we are all part of the Body of Jesus Christ,
1 Cor 12:12
12 For as the body is one and has many members, but all the members of that one body, being many, are one body, so also is Christ.
NKJV
… as we've become so jaded that we close out the greatest gift God could give us; the word of a good prophet of the Lord, or a powerful vision or dream from God.
Amos 3:7-8
Surely the Lord God does nothing,
Unless He reveals His secret to His servants the prophets.
8 A lion has roared!
Who will not fear?
The Lord God has spoken!
NKJV
Glynda Lomax is one such wonderful prophetic voice of God our Father.  Famous "watchman" web sites such as Steve Quayle and Stan Deyo have published sister Glynda's prophecies before; but never one as important as this: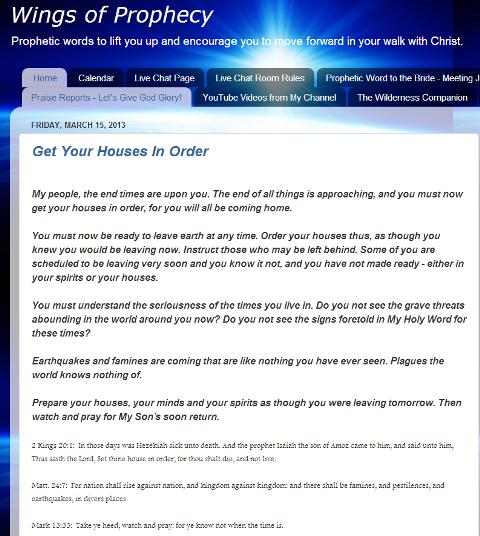 Here is the same prophecy in text:
My people, the end times are upon you. The end of all things is approaching, and you must now get your houses in order, for you will all be coming home.
You must now be ready to leave earth at any time

. Order your houses thus, as though you knew you would be leaving now. Instruct those who may be left behind. Some of you are scheduled to be leaving very soon and you know it not, and you have not made ready – either in your spirits or your houses.
You must understand the seriousness of the times you live in. Do you not see the grave threats abounding in the world around you now? Do you not see the signs foretold in My Holy Word for these times?
Earthquakes and famines are coming that are like nothing you have ever seen. Plagues the world knows nothing of.
Prepare your houses, your minds and your spirits as though you were leaving tomorrow. Then watch and pray for My Son's soon return.
http://wingsofprophecy.blogspot.com/
Summary in Jesus Name
God Bless You ALL so much.  It has been a long haul of many years of writing, radio shows and ministry work.  We must all keep "waiting upon the Lord" (e.g. serving God) until that moment comes.  But NOW we have, for the first time, a new comer and respected prophetess of God our Father, giving us the FINAL WARNING to get our houses in order.  What is so wonderful about this warning is that it confirms ALL the other prophetic warnings the Lord has placed upon all our hearts to share with those who will listen with humble and hopeful ears.
Many Christians will Not Make the Rapture
And you MUST be practicing righteousness and living holy or you will not be raptured.   Get the sin OUT of your life now and repent.  This is not basic salvation folks, this is the rapture of the BRIDE of Jesus Christ.  Most visions of the rapture given to our Father God's people show only about 2-10 % of the church making the "outbound departure".  See the article "Being Holy" and pray the Rapture Prayers for Purification now.  Seek to become "worthy" by through the Blood of Jesus Christ, His grace and repentance.
Eph 5:27
(…) that He [Jesus] might present her [the Bride] to Himself a glorious church [church of Philadelphia Rev. 3:10], not having spot or wrinkle or any such thing, but that she should be holy and without blemish.
NKJV

1 John 3:7-8
Little children, let no one deceive you. He who practices righteousness is righteous, just as He is righteous. 8 He who sins is of the devil
NKJV

Luke 21:36
Watch therefore, and pray always that you may be counted worthy to escape all these things that will come to pass, and to stand before the Son of Man.
NKJV
And to add the "icing on the metaphorical cake" brother Roger just sent in this confirmation: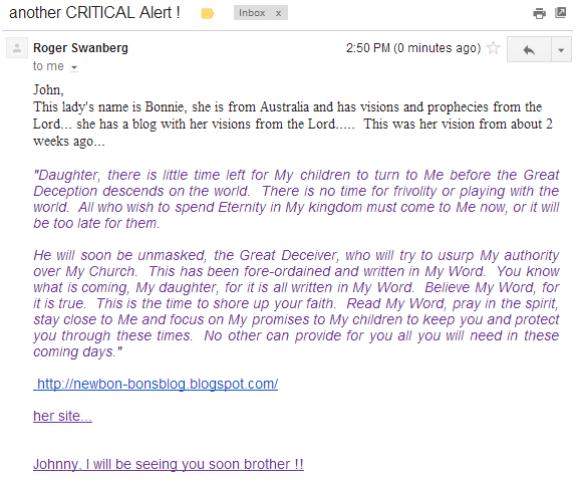 IT IS NOT TOO LATE
REPENT NOW AND EVERY DAY OF YOUR SINS
CLEANS YOURSELF WITH THE BLOOD OF THE LAMB
CRY OUT TO JESUS
BEFORE
THE TRUMPET BLOWS
Join us March 20th on the Radio Show as we welcome brother
PATRICK HERON 
He will be discussing, once and for all, the definitive rapture Bible scriptures to help those still sitting on the fence understand that the TIME IS NOW.