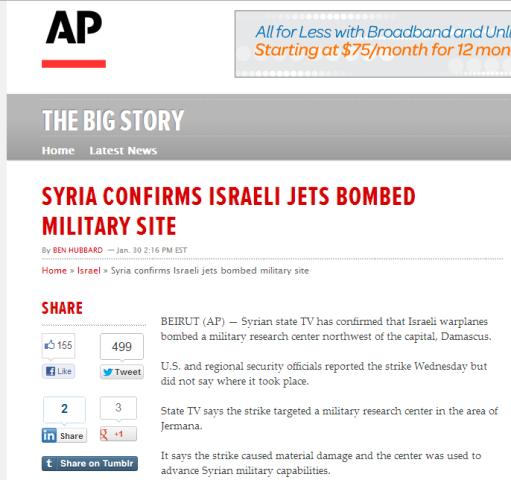 PRAISE YOU JESUS
http://bigstory.ap.org/article/regional-security-officials-say-israel-conducted-airstrike-inside-syria-overnight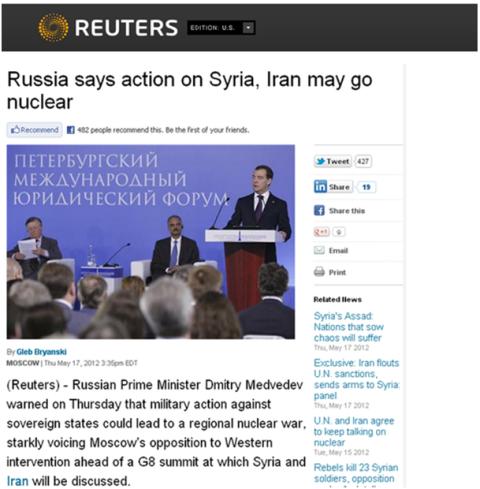 http://www.reuters.com/article/2012/05/17/us-g8-russia-idUSBRE84G18M20120517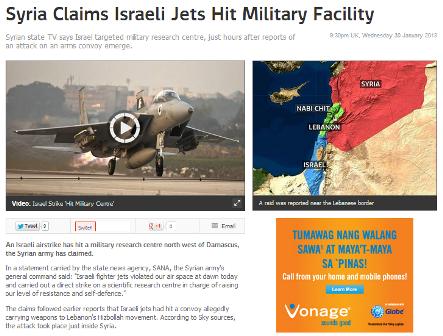 http://news.sky.com/story/1045063/syria-claims-israeli-jets-hit-military-facility
An Israeli airstrike has hit a military research centre north west of Damascus, the Syrian army has claimed.

In a statement carried by the state news agency, SANA, the Syrian army's general command said: "Israeli fighter jets violated our air space at dawn today and carried out a direct strike on a scientific research centre in charge of raising our level of resistance and self-defence."

The claims followed earlier reports that Israeli jets had hit a convoy allegedly carrying weapons to Lebanon's Hizbollah movement. According to Sky sources, the attack took place just inside Syria.

Sky's Middle East Correspondent Sam Kiley said: "We know from Sky sources that the Israelis have conducted an airstrike involving three sorties by 12 planes – a very heavy airstrike, a high level of intent – on the village of Nabi Chit, near the bigger Syrian town of Zabadani.

"It's inside Syrian territory, therefore representing a possible strategic escalation.

"I'm told by security sources that were not directly involved that the most likely target were either shore-to-ship missiles – very sophisticated missiles of the kind used by Hizbollah against an Israeli ship a few years ago off the coast of Lebanon – or sophisticated anti-aircraft missiles, both of which the Damascus regime have access to from Russia.

"They are recently understood to have taken substantial imports of these from Russia.

"Why are they such a worry to the Israelis? If Hizbollah were to get access to such anti-shipping missiles and particularly to very sophisticated anti-aircraft missiles, it would prevent the Israelis carrying out just the sort of airstrike that they've just done – it would shift the balance towards Hizbollah.

"Israel has always enjoyed air superiority in the region, and it would lose it if these missiles were able to find the way into Hizbollah's hands.

"There is less of a suggestion that it was targeting chemical weapons."

It was not immediately clear whether both the Sky sources and the Syrian media were referring to the same airstrike.

The alleged airstrike came after Iran warned that any attack on Syria would be seen as an attack on Iran.

Ali Akbar Velayati, a senior aide to Iran's supreme leader, Ayatollah Ali Khamenei, told Iran's semi-official Mehr news agency that Syria played a crucial role in the "golden resistance chain" against Israel and the United States.

The Iran-led "resistance" front includes Syria, Lebanon-based Hezbollah and the Palestinian group Hamas.

He said: "An attack on Syria would be considered an attack on Iran and Iran's allies."

An Israeli military spokeswoman declined to comment on the reported attack inside Syria.

In the run-up to the raid, Israeli officials had been warning publicly of the threat posed to their country should high-tech anti-aircraft or anti-tank missiles reach Israel's enemies.

Lebanese militant group Hizbollah is a known enemy of Israel and has connections with Syria.

Israel fears sophisticated weaponry stockpiled by Bashar al Assad's regime could fall into the hands of Hizbollah and could then be used to launch an attack against its citizens.