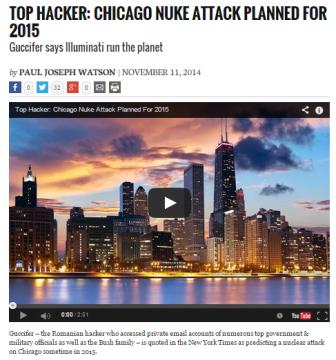 (Source: Infowars)
WGN Chicago Investigates Report of "ISIS" Threat
Also in August of 2014, WGN Chicago ran a news report indicating that ISIS terrorists are already in the USA and waiting to make a move against US.  In this report "WGN Investigates" shows a note that ostensibly shows possible information indicating that a particular hotel may be targeted.  While the video has been removed by You Tube due to their notorious copyright violations, here is evidence Tribulation-Now has collected of this report.
Since we know ISIS is a creation of the forces of darkness (call them the NWO if you like), this is a particularly worrisome report.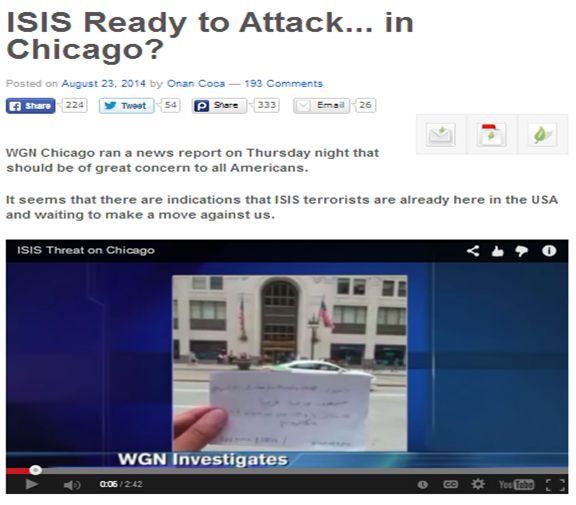 Listen Here:
 TRIBULATION-NOW 
ARTICLE REPRINT FROM 2009
(with minor updates to links)
Former U.N. Ambassador, John Bolton, Jokes about Nuking Chicago!
" Former UN Ambassador John Bolton believes the security of the United States is at dire risk under the Obama administration. And before a gathering of conservatives in Washington on Thursday morning, he suggested, as something of a joke, that President Barack Obama might learn a needed lesson if Chicago were destroyed by a nuclear bomb.
Appearing at the Conservative Political Action Conference (CPAC), the nation's largest annual conference of conservative activists, Bolton, one of the hardest hardliners of the George W. Bush administration, spoke at length about Obama's naiveté and how various nations – Russia, North Korea, Iran – will be exploiting the new president. The most dramatic moment of his speech may have been when he cracked a joke about the nuking of Obama's hometown.
"The fact is on foreign policy I don't think President Obama thinks it's a priority," said Bolton. "He said during the campaign he thought Iran was a tiny threat. Tiny, tiny depending on how many nuclear weapons they are ultimately able to deliver on target. Its, uh, its tiny compared to the Soviet Union, but is the loss of one American city" – here Bolton shrugged his shoulders impishly – "pick one at random – Chicago – is that a tiny threat?" "
THE DAILY MOTION MSNBC REPORT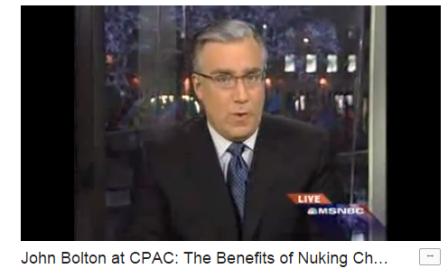 Click HERE to listen to this MSNBC Report about these comments at the Daily Motion
Folks when you combine this article regarding comments made in "jest" about nuking Chicago with the Emergency Management Agency Official's comments made on a Radio Show (video below) it gives you an eerie feeling that just perhaps this is NOT A JOKING MATTER.
After listening to the Radio Show interview of this OBVIOUSLY SHAKEN Emergency Management Official and his concerns regarding unusual expectations by FEMA, I thought to myself, OH DEAR LORD They Are Going to Nuke Chicago!!

I sure do hope I am wrong. But when you combine all this information with Pastor David Wilkerson's vision of fires rolling down the streets of New York and other cities, it sure does concern me that the next FALSE FLAG 911 Terror Attack could be such a scenario.
(Source: See HERE)
SEE David Wilkerson's Vision Here:



EMERGENCY MANAGEMENT
OFFICIAL CALLS RADIO STATION
Listen to this Emergency Management Official raising concerns about the troubling requirements being placed upon them by FEMA.

HIGH WINDS, Harden Fire Stations?
400,000 + REFUGEES?

Inoculations in 24 hours (potassium 

iodide?)

 

?)

MASS GRAVES?