The Satanic Takedown is in Full Effect
These types of disclosures are so pervasive that by now certainly millions of people worldwide know that there is an intentional manipulation of numbers and facts.  This also means there is an intentional (I would argue Satanic) take-down of America and other countries worldwide.  The Covid-19 bioweapon is real and I would not wish the sickness on my worst enemy, but it is being used in a calculated way to destroy the American and indeed, the global economies.
Here is more information to add to the portfolio of testimonies from qualified officials that the Covid-19 bioweapon's numbers are being manipulated intentionally to destroy this, and other countries.
PLACER COUNTY CALIFORNIA BOARD OF SUPERVISOR SAYS ALL COVID STATS ARE BUGUS  (Kirk Uhler)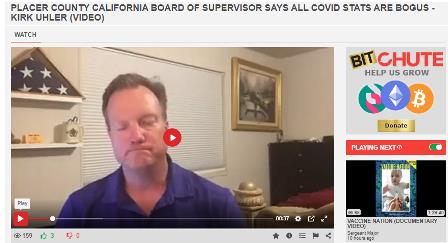 https://www.bitchute.com/video/ytRrAhwVwz4E/
And of course this disclosure is most troubling as well.  The question is this.  Has our Father induced labor to move the end-times forward at high speed and if so, what's next?
FLORIDA LABS REPORTING 100% ALL POSITIVE CORONAVIRUS RESULTS

Some Florida labs only reported positive coronavirus test results, state data shows
KEEP PRAYING
But always pray … Father … Your will be Done