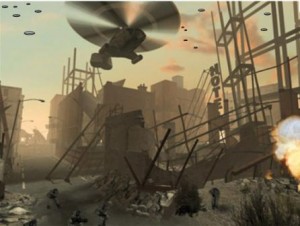 Why is it Taking so Long?
FEMA Camps, Guillotines, New World Order, and UFO Disclosure
You can call it "The Rise of the 4th Reich" or the New World Order.  Take your pick.  Since 1988 I've been tracking these things, as have many other researchers.  From Alex Jones reports, Thomas Horn books, to Steve Quayle alerts, the crescendo of events and forthcoming information has been nothing less than utterly horrific.
Why is the water taking so long to boil?  Why hasn't there been Martial Law yet?  Why has the government been hiding the truth about UFOs?  How come there weren't any H1N1 mandatory innoculation checkpoints?  What are the Chinese troops waiting for?  What's up with the Russian BlackJack Jet's?  Chemtrails everywhere, what is going on here?
A Short List of What's Going On
The following is a "short list" of what's been going on in the last several years.  A lot of this stuff people have forgotten by now.  Many people, even those who consider themselves to be "watchmen", are starting to get "antsy".  Prophecies and Visions are pouring in at an alarming rate.  Billboards are posted all over America about the "Day of the Lord".  Pastors are announcing the rapture is imminent.  New Agers are waiting for their vibrational shift.
In the last 10 minutes, I compiled this list of things we all need to be aware of and remember exist and are on the horizon.  I remind you this list was off the "top of my head".  I assure you there is much more.
WHY IS IT TAKING SO LONG? 
What is going on here?
A short list of things which are, and things to come.
Planet X
Elenin
FEMA Camps
FEMA Coffins
FEMA Trains
Mass Graves
Nake Body Scanners
Guillotines
Mind Control Slaves
Georgia Guide Stones
Islamic Rise, Mahdi Messiah
Operation Garden Plot
MK Ultra
911
NorthCOM
Government Relocation to Denver
Atlantis, Lemuria
Middle East Muslim Riots
Deep Underground Military Bases
Public Video Surveillance Cameras
Unified Global Control Grid
World Government / NATO
Presidential Directives
Military Industrial Complex
Chemtrails
HAARP
Magneto Leviton Train Systems
GMO Foods
Seed Vaults
Terminator Seeds
Codex Alimentarious
Chip Implants
Ancient Aliens
Hidden Nukes, Micro Nukes
Underwater Pyramids
ForeignTroop Buildups
Martial Law
UFO's around the Sun
Hybridized humans
Akhenaten Hieroglyphs
Pyramid Shaped UFOs
Super Soldiers
Financial Collapse, IMF Super-currency
Disclosure Secrecy
Zecharia Sitchin
Corruption of the Human Genome
Hybridized Humans
Shape Shifting Reptilians
Perfectly Possessed Humans
Vibrational Shifts
Mainstream Media UFO Reports
CERN Accelerator
Wikileaks
God Particle
Anti-Matter Accumulators
Star Gates, Wormholes, Spirals
Asteroids, Comets, Cosmic Disturbances
UFO Wars in Earth's Atomosphere
3rd Generation Night Vision Goggles
Earth Wobbles
UFO FBI Documents
Ecumenical Religious Initiatives
Pole Shifts
5013C Government Church Controls
Pleiadian Cosmic Visitations
Global Seismic Indicators
Rise of the New Ager Beliefs
Indigo Children / Star Children
Kundalini Spiritual Events
Personal Angels
Energy Orbs 
Light Workers
Economic Turmoil
Media Front Loading
Alien Movies, UFO Movies, ET Lyrics
Endless Distractions
Earthquakes, Volcanos, Tornados, and Extended Winters
Animal Die-Offs
Pandemics, Manufactured Poisons, Pineal Gland Destruction
These are the "Protocols of the Learned Elders of Lucifer"
Summary in Jesus Name
I received an email from a Tribulation-Now email list member.  He mentioned how strange it is that things seem so stable and that nothing is actually happening.  He recalled a number of alerts that have been sent out by good meaning watchmen and how nothing had happened.  Amen!  He is exactly correct. 
Indeed a lot of alerts have come out over the years from various sources.  If you are like me, and have been watching this stuff for many years, it takes a toll on you.  After a while you start to wonder what is going on. 
Yes there have been some alarming events.  Yes the Japanese earthquake was horrible and the nuclear disaster unspeakably bad as it continues to unfold.  Yes the Middle East is in an uproar.  Yes the earthquakes are occurring at an all time high.  Yes the government lied about the Bin Laden operation to "set us up" for an imminent terrorist false-flag retaliation. 
Yes …
But still.  What is going on here?
The only thing that makes sense to me, is that WE are being setup for  …..
THE GREAT TRIBULATION
Dan 12:1-4
 "At that time Michael shall stand up,
The great prince who stands watch over the sons of your people;
And there shall be a time of trouble,
Such as never was since there was a nation,
Even to that time.
And at that time your people shall be delivered,
Every one who is found written in the book.
2 And many of those who sleep in the dust of the earth shall awake,
Some to everlasting life,
Some to shame and everlasting contempt.
3 Those who are wise shall shine
Like the brightness of the firmament,
And those who turn many to righteousness
Like the stars forever and ever.
4 "But you, Daniel, shut up the words, and seal the book until the time of the end; many shall run to and fro, and knowledge shall increase."
NKJV
Get yourself RIGHT with JESUS CHRIST
NOW
TIME IS GROWING SHORTER EVERY DAY
Your only hope is SALVATION through JESUS
MAKE THE RESCUE MISSION OF THIS ROCK
Before it's too late ….
BE BLESSED IN JESUS NAME