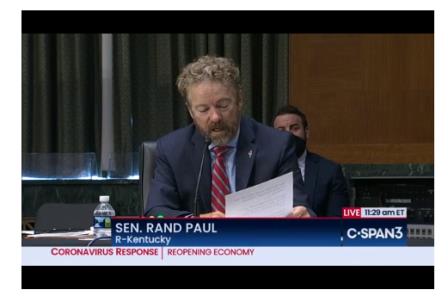 https://www.washingtonexaminer.com/news/i-dont-think-youre-the-end-all-rand-paul-casts-doubt-on-faucis-coronavirus-predictions
Paul was quoted as stating:
Sen. Rand Paul criticized Dr. Anthony Fauci and suggested that he and other leading U.S. health officials have incorrectly predicted how widespread the coronavirus pandemic would be in America.
"I think we ought to have a little bit of humility in our belief that we know what's best for the economy," Paul said Tuesday during a Senate coronavirus response oversight hearing. "And as much as I respect you, Dr. Fauci, I don't think you're the end-all. I don't think you're the one person that gets to make a decision."
Paul argued that more people should look to other nations of the world, some of which have imposed more lenient lockdown measures in response to the pandemic, for guidance on how to slow the spread while keeping the national economy moving.
"We're opening up a lot of economies around the U.S., and I hope that people who are predicting doom and gloom and saying, 'Oh, we can't do this' … will admit that they were wrong if there isn't a surge because I think that's what's going to happen," the Republican from Kentucky said.
Paul continued: "In rural states — we never really reached any sort of pandemic levels in Kentucky and other states. We have less deaths in Kentucky than we have in an average flu season."
Earlier during the hearing, Fauci warned of "needless suffering" nationwide if local economies reopen too soon, putting more people in danger of being infected with the coronavirus.
"We will be investing considerable resources in developing doses even before we know any given candidate or candidates work," Fauci said. "I must warn that there is also the possibility of negative consequences, where certain vaccines can actually enhance the negative effect of the infection."
Paul, who himself was diagnosed with coronavirus in March, said a one-size-fits-all approach to reopening the economy is not supported by data.
"We really ought to be doing it school district by school district," he said. "The power needs to be dispersed because people make wrong predictions, and really, the history of this when we look back will be of wrong prediction after wrong prediction after wrong prediction."
AGAIN – Know this Was Planned for Years.  Know this was a murderous crime against humanity.  Know that Gates and Obama are funding it, Obama is supporting it, and Fauci and the whole group belong in Prison for Life.  The Supermax would be too kind a sentence for this evil.
LISTEN TO THIS – It is extremely accurate REGARDLESS of what you think about Donald Trump
HOWEVER – THIS JUST OUT – WARNING

I was told that Trump also said that some people in America "may not want to take it" which implies that maybe it would not be mandatory (like the current flu shot).  However, we will have to see how this plays out.  If there are restrictions placed on people who refuse the vaccine, it could get very ugly very fast.  If there is an attempt to force the vaccine, we can expect civil war to break out in different parts of the country similar to what Dimitru Duduman saw in a vision he was given by the Lord.
We have enough hardship to ensure in the days ahead as the end-times continue to get worse. Pray these filthy demons are made an example of by our Father in Heaven.  HIS will be done.
WATCH OVER AND OVER – SPREAD THE WORD
PLANDEMIC! – The Documentary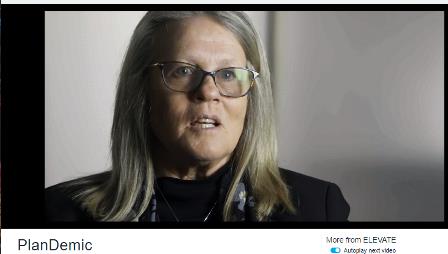 https://www.altcensored.com/watch?v=ytzsJYFv6HI
GOD BLESS YOU
Don't forget how long the American public has been played by the mind-control media.  Here's a flashback to a truly fake news report from during the Gulf War.
AND DON'T FORGET THE MOVIE – WAG THE DOG!!!
Get it, rent it, remember it.  God warns His people if we can only see.
WE CALL DOWN THE FIRE OF THE PRIESTS OF BA'AL UPON THIS EVIL IN JESUS NAME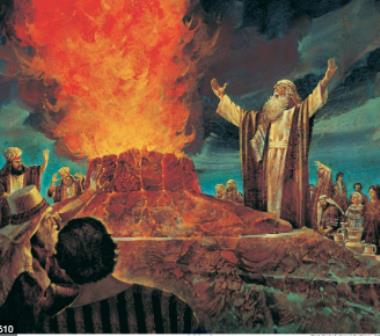 GLORY TO GOD