RAPTURE IMMINENT FLYER
The following PDF can be downloaded and printed out on any basic computer printer.  50 sheets of paper yeilds 100 flyers that can be placed on car windsheilds in church parking-lots on Sundays in your local town.
Help wake-up the "sheep" and get them "sin free" in time for the Rapture (rescue mission) of the Bride of Jesus Christ.
Download PDF of Rapture Imminent Flyers HERE.
CALIFORNIA EARTHQUAKE RAPTURE BROCHURE
The following is a tri-fold brochure announcing the forthcoming California earthquake and tsunami and telling people to repent and prepare for the rapture of the Bride.  The information on this brochure can easily be printed on a single page and placed on car windshields warning people of these forthcoming signs given to us by our Heavenly Father and King Jesus Christ.
OUTSIDE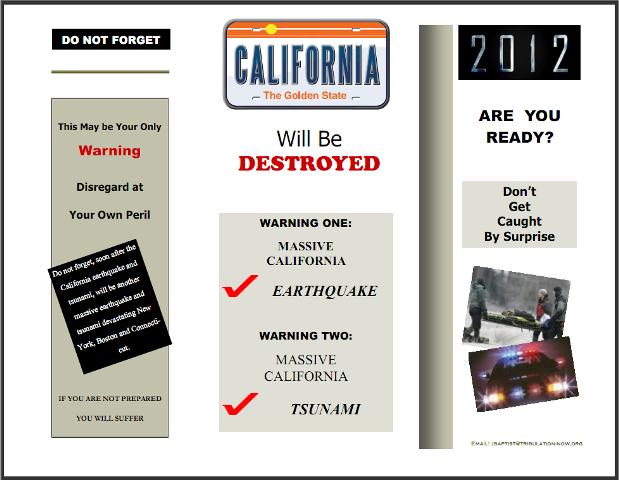 INSIDE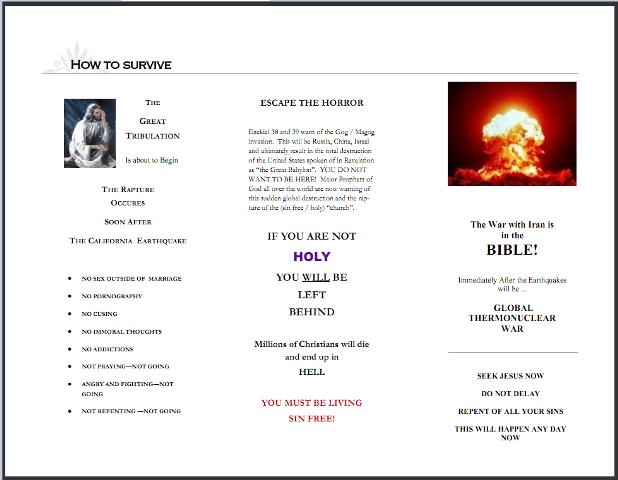 Microsoft Publisher:  California-Earthquake-Brochure-Outside
Microsoft Publisher: Calfornia-Earthquake-Brochure-Inside
Microsoft Publisher: California-Earthquake-Brochure-Complete
JPEG  Graphic: California-Earthquake-Brochure-Outside
JPEG Graphic: California-Earthquake-Brochure-Inside
PDF File: California-Earthquake-Brochure-Full
SUDDEN DESTRUCTION BROCHURE
This is a single sided brochure with a lot more information on it than the one above.  It is available below in PDF format for easy printing.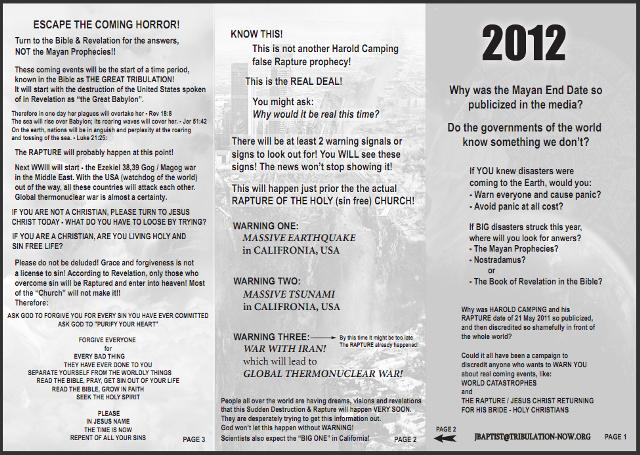 PDF File: Sudden Destruction Brochure HERE
ARE WE IN THE LAST DAYS?
This is an easy to print 2 page informational flyer that can be left around town in restaurants, or even on car windshields.  This is highly informative, covers a number of "in-depth" subjects, and points people to compelling testimony such as Choo Thomas' "Heaven is So Real" and Angelica Zambrano's "Prepare to Meet Your God" video.  God Bless You Jerry for this contribution.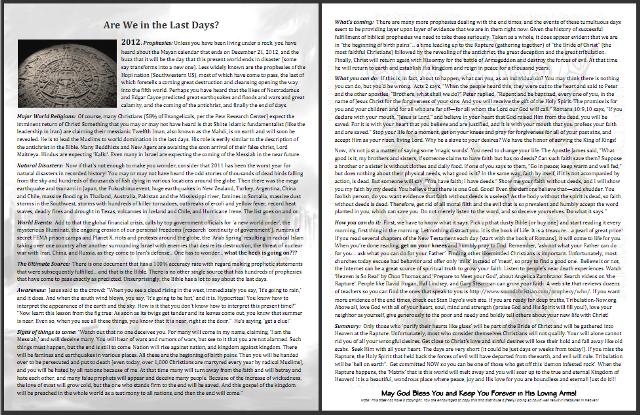 PDF File: Are We In the Last Days? HERE.
NOW GET OUT THERE AND SAVE SOULS FOR JESUS!!