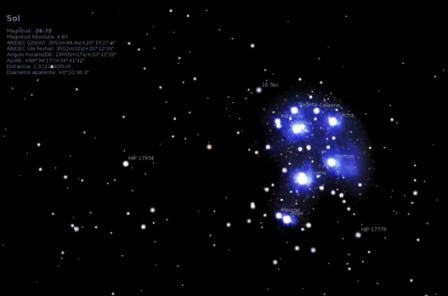 Prepare & Pray
Luke 21:11 is Now
The following is a brief compilation of data derived from a You Tube video that found its way into my email inbox, Praise Jesus.  I have added some additional information to supplement the overall message.  Hopefully by now you are aware of the season.  The clock is quietly ticking.   The snare is about to "snap".
Luke 21:11-12
And there will be great earthquakes in various places, and famines and pestilences; and there will be fearful sights and great signs from heaven.
NKJV
The Great Earthquake 2012
The following You Tube video provides the primary source for this most troubling series of "coincidental" events / data points.   For those who cannot view You Tube videos I am expanding on the content somewhat in the below write up.
Nostradamus Quatrains on May Earthquake
[X 67] A mighty earthquake in the month of May.
Saturn, Capricorn, Jupiter, Mercury in Taurus: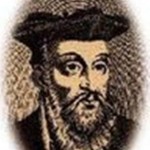 Venus also. Cancer, Mars in Nonnay (cero)
Hail will fall larger than an egg.
[IX 83] Sun twentieth of Taurus the earth will tremble very mightily.
It will ruin the great heater filled:
To darken and trouble air, sky and land
Then the infidel will call upon God and saints.
May 20, 2012 Alignment Confirmations
While researching the other video,  I found this one from a different channel further confirming these alignments.  This video includes the additional conjunction (alignment) of the Pleiades Star System on precisely the same date.
The Serpent's Eclipse
Another Tribulation-Now contributor sent in this video expanding upon the Solar Eclipse that is to occur on May 20th, 2012 (God bless you Jeff).  Evidently this is referred to as the "Serpent's Eclipse".  Keep in mind this is not only an alignment of the earth, moon, and Sun – but the Pleiades Star System also aligns simultaneously from behind the Sun (from the far reaches of the heavens) at precisely the same time.
The Coincidental Alignment of the Mysterious Red X
During this "Serpent's" eclipse, the shadow of the moon will be aligned over the earth such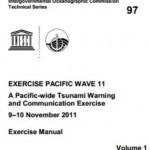 that the center will be directly over the mysterious Google Earth RED X location supposedly leaked by NASA last year in the file named byss.arc.nasa 11133.kml.   In 2011 this was mistakenly assumed to be an Elenin impact point.  It was also "coincidentally" the exact location of the Exercise Pacific Wave 11 tsunami drill.
The image here below shows the impact map documented in the UNESCO tsunami drill-scenario paperwork.  This event was reported to be one of the largest tsunami drills in history.
Note the source of the tsunami wave in this graphic.  This is near the tip of the Aleutian Islands chain and coincidentally where the mysterious "Red X" appears on Google Earth when using the "NASA" file (see image below).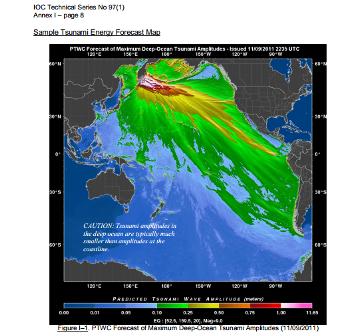 And here below is a graphic from the original You Tube video above showing how the moon's shadow (during the "Serpent's" eclipse) is directly overhead of this mysterious "Red X".

Mayan Prophecy – Return of the Jaguar Serpent
Reportedly there is a Mayan prophecy called "The Return of the Jaguar Serpent" depicting some ominous events that may be unfolding about that same time.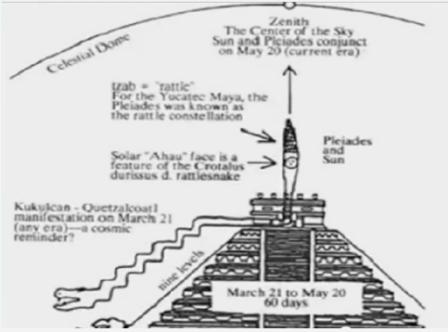 Here you will note the graphic depicts …
The Center of the Sky – The Sun and Pleiades conjunction on May 20 (current era)
A possible Kukulcan / Quetzalcoatl manifestation between (March 21 – May 20)
The Mayan lore predicts that after a global earthquake, the "new men of knowledge" will return to earth to usher in a global government  (New World Order).
Crop Circle Analysis at the 16th UFO Congress
Here is a short video clip of Jaime Maussan, UFO researcher, presenting the results of their collective analysis of a crop circle formation that appears to indicate the Mesoamerican feathered serpent "star god" diety Quetzalcoatl may possibly return in May of 2012.
Also is the Mayan End Date Predicted as May 20th in the Crop Circles?
Dream –  Bad Earthquakes in May 2012
Then while researching this information I "coincidentally" spot this fellow's video based warning.  This You Tube video is of a gentleman who was given a vivid dream of at least one, possibly more, massive earthquakes around or about May 26th of 2012.  What's REALLY fascinating about this "coincidence" is that he says the date may not be precise AND that the video was posted in June of 2010.
French Psychic In 1980 Predicts 2012 Alien Invasion
And here you see a video of a French psychic testifying that he sees an alien invasion occurring in the year 2012 (among a vast number of other astonishing predictions that evidently came true).
Debunking Ancient Aliens and the Creation of Man
(Part 1 – Recorded Sunday April 29)
RADIO SHOW


(Pre-Recorded)
Part 2 – (will air) Sunday May 6th
This show DEBUNKS once and for all, the deception promulgated by the lying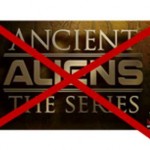 Annunaki (Sumerian "gods", otherwise known as fallen-angel-demons) and explaining how these "experts"  inaccurately hypothesize these Sumerian "gods" created the true Adam and Eve, while unwittingly helping them deceive mankind into believing that "they" (the Annunaki) are our creators (see 2 Thess. 2:11b "lie").
God Bless You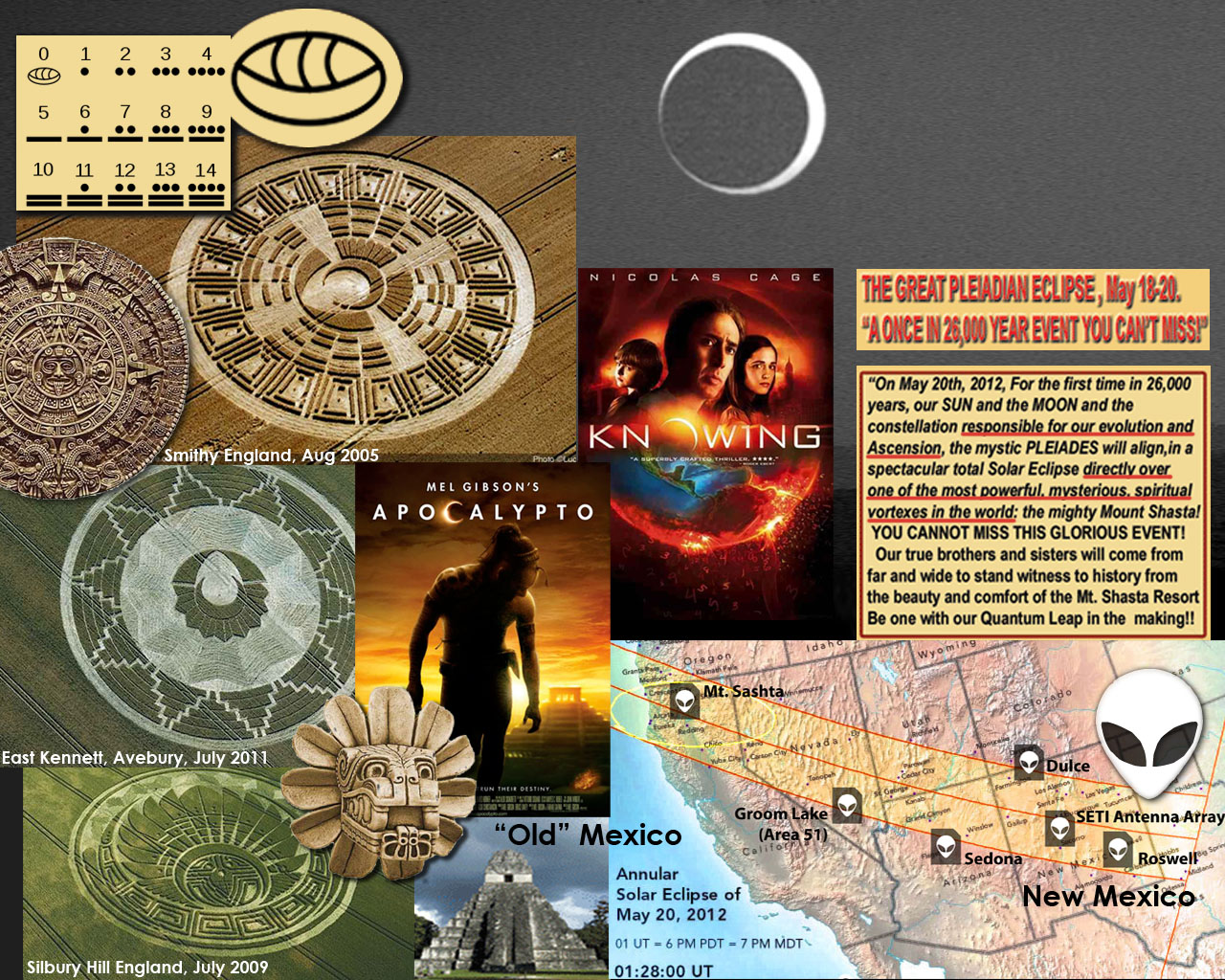 Pre-Apocalyptic May 20 MegaQuake Holiness Update
Radio Show Weds April 2nd 8PM ET
Join Kenneth, John and Cathy in the chat room while we hammer home the key indicators of a possible May 20, 2012 Megaquake. We will also discuss a number of other hot headlines and concerns while we continue to prepare ourselves in repentance and holiness for the forthcoming rescue mission.
Glory to Jesus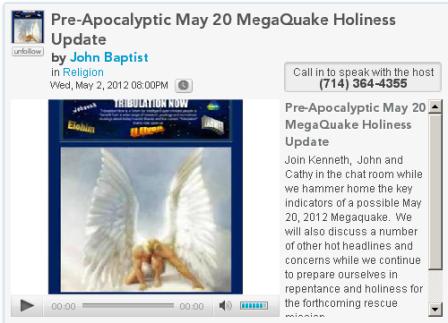 Radio Show Link: http://www.blogtalkradio.com/tribulation-now/2012/05/03/pre-apocalyptic-may-20-megaquake-holiness-update
The Sumerian "gods" Are Returning
And here is one of my personal favorite testimonies from our awesome brother in Christ, Stan Deyo of Millennium Ark (www.standeyo.com) speaking on a radio show and sharing "insider information" that sources in the Pentagon of the United States are eventually expecting the return of the Sumerian "gods" (also known as the Annunaki).
The Counting of the Omer is in Progress
We are currently in the period between Passover and Shavuot.  Shavuot is when Moses revealed the Torah to the ancient Hebrews.  Shavuot, which occurs on May 26/27 this year, also happens at the same time as Pentecost.   This is from a Hebrew prayer book, known as a Siddur.
LOOK at what it says.  This is amazing.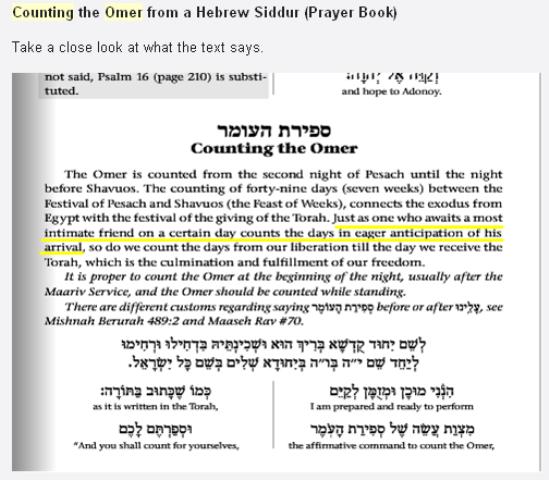 Pentecost is an exciting date to watch for Jesus to come back for his Bride because "just prior" to Pentecost, Jesus went UP TO HEAVEN and sent back the Holy Spirit.  In essence, when Jesus comes to get the Bride, the Holy Spirit will be returning to Heaven as well.
2 Thess 2:7-8
Only He who now restrains will do so until He is taken out of the way.
NKJV
And just a few verses prior it says …
2 Thess 2:3
Let no one deceive you by any means; for that Day will not come unless the falling away [ e.g. the Outbound Departure of the Bride to Heaven]  comes first,
NKJV
The 7 Year Tribulation Period Started October 2008
Summary in Jesus Name
While there is no possible way for me to attest to the legitimacy of any of these claims, there is no question those who are anxiously awaiting the return of Jesus Christ for his "spotless" Bride, are ON ALERT!
We know that the Bible clearly says that Jesus will come "like a snare" and "like a thief in the night".   We know that the Bible clearly says there will be "peace and safety" and then "sudden destruction".
Please take the time to read the last 4 – 6 articles posted here on Tribulation-Now and consider joining us for our radio shows Wednesday and Sunday nights at 8PM ET.  Please prepare yourself in repentance and holiness and REMAIN READY at all times.
 BE YE HOLY FOR I AM HOLY
(says the Lord your God)
REPENT AND PREPARE THE WAY
for the
COMING OF THE LORD
… Be Blessed in Jesus Name
Post Script:
This just in … April 28th around 12 noon ET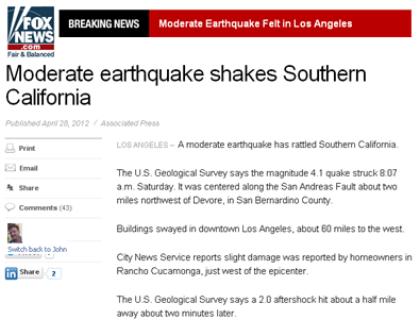 Also see this post from Kari – Praise Jesus …
http://www.fivedoves.com/letters/apr2012/kari427.htm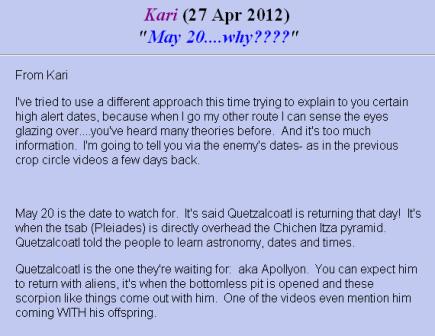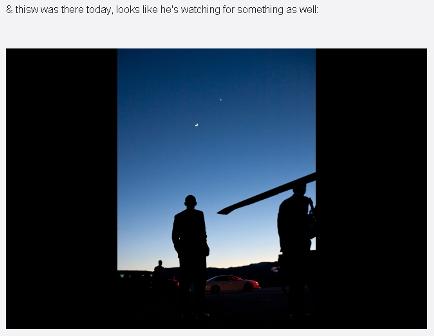 Here is another One Sent in from Lone
Here is another One Sent in from Chris
Folks things are looking well … not so good for the Month of May.  Please be ready.  God Bless You.
Here's another One Sent in From Trish and Roger
And Don't Forget This Testimony from a Chicago Area Emergency Management Agent
(Its dated, but it's still valid … might be a warning about a nuclear event, or something slightly less horrific)
This One "Just In" from Bogdan in Russia – God Bless You Brother!