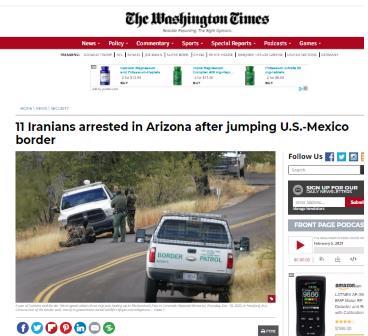 Seeing as how there is no question a multitude of false flag attacks are being executed against Donald Trump, it may be most suspicious that The Washington Times just reported 11 Iranians were arrested crossing the border.
Trump Kills Iranian Leader
While most of us know that the killing of Osama Bin Laden was a total con-job and another fake news event launched by the Obama-Clinton group(s) of Satanic seething evil; mainstream dem-satanic media made it abundantly clear that Trump himself ordered the killing of Qasem Soleimani.  In fact they called it an "Assassination" making it all the worse in the court of global opionion.
Wikipedia Links the "Assassination" to Trump
Then Wikipedia joins in to ensure the historical record makes the "Assassination" an attribute to the Trump legacy.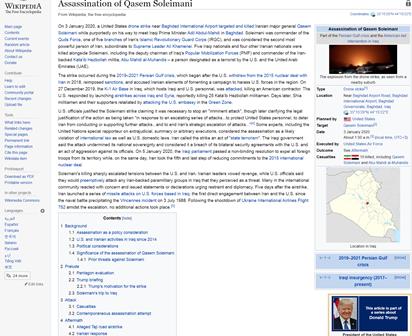 Note the small dark blue picture of Trump on right bottom of the page.  Let's zoom in shall we?

Could this be a Setup for a Future False Flag?
Now if the George Soros Satanic Obama Clinton Illuminati endtimes attack-engine of lies were to be planning something big; sadly this may be a warning sign.
Or perhaps not.
WE LIVE IN TROUBLING DAYS
PRAISE GOD
Eccl 7:14
14 In the day of prosperity be joyful,
But in the day of adversity consider:
Surely God has appointed the one as well as the other,
NKJV