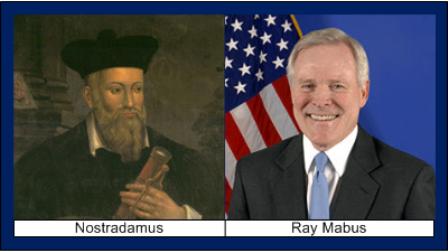 Oracles and Dreams
Catastrophic Events following an Unfortunate Loss?
Could Ray Mabus have been predicted by Nostradamus as a marker of forthcoming calamities?  Hard to be certain.  However one of Tribulation-Now's key contributors, Gary, has not only had a very powerful dream regarding this possibility, but it appears so did Nostradamus.
Who is Ray Mabus?
Here below is a snipet from an article on Ray Mabus and his likely promotion to Secretary of Defense this summer.
With Secretary of Defense Robert Gates now back from a final tour of operations in Iraq, the focus on Capitol Hill now turns to President Obama's choice of Gates' successor. After serving as defense secretary in the administrations of both Obama and former President George W. Bush, Gates is expected to retire this summer.

Current Navy Secretary Ray Mabus, 62, the former Mississippi governor and Clinton administration ambassador to Saudi Arabia, has been named by more than a dozen national news and defense industry media organizations as a leading contender to succeed Gates when he steps down.
To read the entire article click here: http://www.hattiesburgamerican.com/article/20110414/OPINION/104140305/1014/opinion/Mabus-short-list-secretary-defense?odyssey=nav%7Chead
Why the Warning?
Sometimes by the divine providence of God, key Tribulation-Now email list members have unusual dreams.  While this is not at all uncommon, when they are tied directly to current events and can be correlated to other prophecies, visions or dreams, they become quite noteworthy.  Amen?
Here is a dream given to Gary Lowrey by the Most High YHWH God.
I had a dream that I was in a conference room and there was a podium and a stage . The back wall had blue curtains hanging from it and the podium had the official Presidential seal on it. In the background behind me I could here people rejoicing and clapping and whistling, they were celebrating .

Then I saw a man with grey hair in a blue suit jacket and tie walking behind the podium he walked back and forth, and as he did I heard a voice saying the people will rejoice, the people will cheer and Mabus will have glee in his heart over it and then sudden destruction and terror cometh.

That morning I told Lesa what I had dreamed and the next day I told Her mother Sue and Steve Sue's husband. This dream occurred on the day that the Royal wedding took place.

The day of the dream I began to research who Mabus was, I thought the name was in the Bible so I searched there first and in Strong's Exhaustive concordance of the Bible however it was not in the Bible.

So I did an internet search and found the name Mabus. He is Ray Mabus and he is on President Obama's short list for Secretary of defense. The other search information came up under Nostradamus he wrote one quatrain about a man named Mabus.
The Nostradamus Prediction
Here below is the Nostradamus prediction on "Mabus".  Is it Ray Mabus?  I don't know.  But here it is.
'Mabus' then will soon die, there will come
Of people and beasts a horrible rout:
Then suddenly one will see vengeance,
Hundred, hand, thirst, hunger when the comet will run.
Whoops.  Excuse me?  Uhmm comet?  I don't know about you, but when I saw the "comet" word in the same Nostradamus prediction as the name "Mabus" I got a sudden chill down my spine.  Glory to God you don't suppose this is referring to Elenin or "Wormwood" do you?  Which is which?  Who is who?  Isn't Elenin supposed to reach its closest point to earth in early to mid September?
PRAISE YOU JESUS!!!
For more information on the Nostradamus prediction see here: http://www.nostradamus.org/mabus.php
Summary in Jesus Name
There is SOOO much going on at this time it is nearly impossible to keep up with all the information.  All I can suggest is that you stay in continuous praise and prayer as much as you possibly can.
Things seem to be ramping up at an all time high.
PRAISE OUR KING JESUS CHRIST
FOR HE IS COMING AT ANY TIME
HOLY HOLY HOLY
is the
LORD GOD ALMIGHTY
TIME IS SHORT
BE READY!!
… and most of all …
BE BLESSED IN JESUS NAME