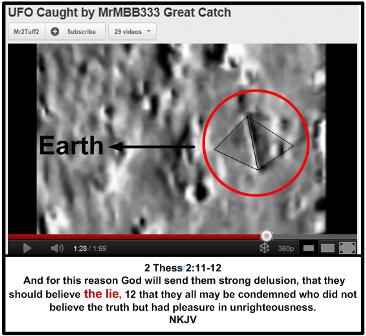 The Pyramids are Your Enemy
Lying Wonders Imminent
Glory to Jesus the Annunaki "star freaks" are almost here!  Praise the Most High YHWH God, our Heavenly Father.  All the Glory to JESUS CHRIST!
Anyone who has been seeking some understanding about these UFO alien "fallen-angel" entities should know by now there is a forthcoming invasion coming upon the earth.  By the grace of God I have been blessed to share numerous articles about this deception for a very long time.  Indeed if you read through the articles on Tribulation-Now, you will find the truth.   If you have questions feel free to email me at [email protected] and I will help in any way I can.
Time is very short.  Jesus Christ is about to remove His "bride" in the "rescue mission" (rapture).  Then "All Hell" is going to break loose.
Here is a list of articles you can read to get you started on some rudimentary understanding.  If you want any chance of escaping these things, you will need to surrender completely to Jesus Christ in earnest prayer immediately.  Start reading and start praying.  Get ALL the sin out of your life IMMEDIATELY.
Please go to the Radio Show archive and listen to the Radio Shows.
Luke 21:36  
Watch therefore, and pray always that you may be counted worthy to escape all these things that will come to pass, and to stand before the Son of Man.
NKJV
Related Articles
There are many articles on Tribulation Now that will help you in your understanding.  There are many more than I can show you in this short list.  However here are direct links to a few.  God Bless You.
Until All Hell Breaks Loose
http://tribulation-now.org/2011/11/15/until-all-hell-breaks-loose/
The Sumerian "gods" are Returning
http://tribulation-now.org/2011/10/19/sumerian-gods-are-returning/
The Sumerian "gods" are Returning (Part 2)
http://tribulation-now.org/2011/10/24/sumerian-gods-are-returning-part-2/
The Seven Thunders Revealed
http://tribulation-now.org/2011/12/21/the-seven-thunders-revealed/
The Real Joel's Army
http://tribulation-now.org/2011/06/08/the-real-joels-army-2/
I would also recommend you read "at least" the articles listed on the right side of this web page under "Hottest Articles".  I know it's a lot of reading but you need to be prepared.  If you are just now discovering these things and are not living a "holy and Godly life" (see this article here) in true obedience to Jesus Christ, then you are almost certainly going to be "left behind" with millions of other Christians.
This means you … MUST BE PREPARED
This means you … MUST NOT TAKE THE MARK OF THE BEAST
God be with you.
The Sumerian "gods" Mother Ship Arriving
Here is this most amazing video showing a huge pyramid shaped mothership heading directly toward earth.  Again I tell you in Jesus Name that 100% of everything and anything related to the pyramids is THE ENEMY.
Lucifer is the King of the Annunaki
THE SUMERIAN gods RETURNING
Also be sure to listen to Stan Deyo of Millennium Ark testify on the radio that certain insiders at the Pentagon KNOW about the Sumerian "gods" (the Annunaki) returning.
INSIDERS AT THE PENTAGON KNOW
Summary in Jesus Name
Please.  Time is so short.
Take the time to watch this video here.  This SAYS IT ALL.
REPENT OF ALL YOUR SINS
PLEASE
ASK GOD TO PURIFY YOUR HEART
GET BAPTIZED NOW
CALL OUT TO JESUS AND ASK HIM TO SAVE YOU
THERE IS STILL TIME
GET OFF THIS ALIEN-DEMON INFESTED ROCK NOW
GLORY TO JESUS!!