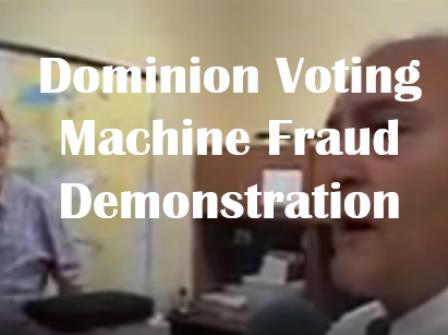 The Diebold machine used in this test is the machine that was used by Dominion during the Donald Trump election fraud.  Evidently the individual leading this live-filmed demonstration is some type of election official who is now wise the the fact the the machines electronically manipulate votes.  It is clear is is not sure how the "hack" happens but the entire team is clearly stupified by what they see. A woman is asked how seeing the evidence made her feel, and she started to cry.  I can tell  you this also made me feel the same way more than once.  The evidence of MASSIVE FRAUD is overwhelming and the intelligent people of the United States who are not "punch-drunk" on their own denial or personal agenda, are powerfully aware.
But simultaneously they are equally astonished at the censorship, witch-hunt, and illegal takedown of the United States unfolding before their eyes.  This astonishment has lead to a type of fear, as those who see what is happening find themselves facing the same type of imminet persecution, false claims, illegal accusations and potentially imprisonment as the people of Germany did during the Nazi rule under the Gestapo.
See this article HERE to learn about how Dominon purchased the Diebold voting machines.
The ONLY escape from this plague of corruption and orchestrated overthrow of the United States is realizing that WE ARE CITIZENS OF HEAVEN.
Do NOT succumb to fear, as the demonic realm feeds off our fear.
PRAISE GOD FOR JESUS CHRIST IS COMING SOON.
PRAYER IS POWER
It rains on the just and the unjust.
Eccl 7:14
In the day of prosperity be joyful,
But in the day of adversity consider:
Surely God has appointed the one as well as the other,
NKJV
GOD IS IN CONTROL
For the moment He has lifted His hand of protection and Satan is allowed to perform his evil.
KEEP PRAYING
Be Gentle As Doves!